So, let's say that you have a bad case of Spring Fever. Snow has been piled up at your door for months or ice has been covering your driveway and sidewalk making more slippery than picking up a banana in a large oil spill. Perhaps, its just about time for Spring Break and you'd like to take a break to catch some huge lunker bass in one of the southern states.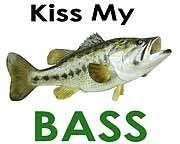 Well, then it's time you bought a few funny fishing t-shirts and headed to Florida or Texas or another locale where they grow them bass-tards big. You may not be a master baiter, but you can learn to be one reeling in 10-pounder after 10-pounder. If all goes well, you'll have plenty of fresh fish for dinner. If you get skunked, then they're always the beer drinking and BS-ing aspect that has made your trip worthwhile.
No matter, what though, it's important to celebrate daylight savings time or just life in general, by hitting that fishing hole and relaxing for a while. The daily grind will always be there. So, go out now, and just have some fun!