Funny Cartoons
Funny cartoons that follow are compliments of the Hill & Dale comic strip. Enjoy the funny cartoons and if you would like to see more then click on the Hill and Dale cartoons link. Even though these funny cartoons aren't available on t-shirts, what the hey, they are free for you amusement. Enjoy!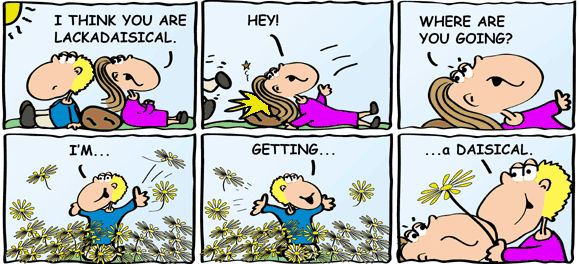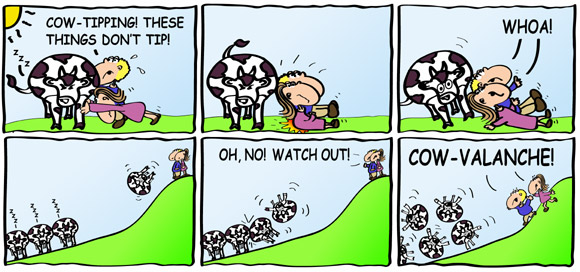 If you can't find the funny cartoons that you're looking for hear or if you want some more laughs, try the jokes page for some great one-liners. Also, check out the funny pics page as these photos just may knock you out of your socks. This site is all about fun, so check out the funny cartoons and funny games on the funny games page. And while you're here checking out the funny cartoons, and funny games, what the heck, buy a few t-shirts as well. The fun never stops on this site, so why not buy a few t-shirts and then you can be funny, too!
This site is the home of funny cartoons, pictures and funny quotes. It is also the home of some very silly cartoons. This is quite a home isn't it? If you're looking for some cartoons and goofy quotes on some cool merchandise, then this is the place to be. One hundred percent cotton tops and most funny cartoons and pictures are printed on front, which drives up the cost for us, but, hey no expense is too great in order to get our message of laughter out.

The funny cartoons on tees boast 100% imitation cotton, glazed by elder, peyote-eating shaman in the mountains of Mexico. The lettering is 100% cloth-covered premium mouse hide, stretched by the shaman's children in the mountains of Mexico.
Neither Comedy Central nor the Improv have so many funny cartoons, t-shirts and quotes as this site. You walk into the front of their stores and you see a glass display case with a few humorous tops and some other token merchandise. Well, this site has 300+ funny cartoons, pictures and t-shirts that can be purchased in sizes 2XL adult through small sizes.

Hear what the critics say about the funny cartoons on this site:

I love the whimsical pictures, unconventional amusing parody funny cartoons, jokes, quotes, gifts, jokes of the day, and silly cartoon stuff! Also, I love the comic strips, toys, and more! You'll love these hilarious designs! Better than Ebay! Better than whoopie! Let's go shopping!
--Don Ho

Funny cartoons you say? So if you're a fan of free stuff, then don't come here. But if you love fanciful quotes, pictures, jokes, and so forth, then this is the place for you. Explore the site and check out the fabulous tops, humorous coffee mugs, goofy gifts, and funny cartoons. Also, the tees are hot and the funny cartoons even funnier. What else could you ask for? Well, I guess you could ask for wacky gifts, novelty merchandise, survivor wear, puns, word play, odd things, off-the-wall clothing, and so many tees it makes me wanna pee!
--Carmen Miranda