fpo1 - Love in Bloom
My Love Is Like A Red, Red Rose
A Melody in Tune,
I Drop My Pants on Lover's Lane
So You Can See Full Moon
fpo3 - Lust Limerick
There once was a girl from Nantucket,
Blah blah blah blah blah,
Suck it!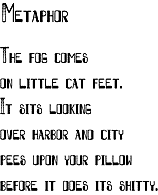 fpo5 - Metaphor
The fog comes
on little cat feet.
It sits looking
Over harbor and city
Pees upon your pillow
Before it does its shitty.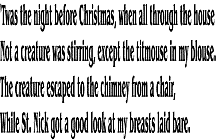 fpo7
Twas the night before Christmas, when all through the house
Not a creature was stirring, except the titmouse in my blouse.
The creature escaped to the chimney from a chair,
While St. Nick got a good look at my breasts laid bare.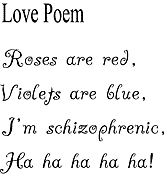 fpo2 - Love Poem
Roses are red,
Violets are blue,
I'm Schizophrenic
Ha ha ha ha ha!
fpo4 - Woods
Two roads diverged in a wood, and
I took the one less traveled by,
And now where the hell am I?
fpo6 - Haiki You!
nipples red
like flowing wine
sip sip lick lick
fso8 - New Year
Should auld acquaintance be forgot,
And never brought to mind?
Should auld acquaintance be forgot,
Just go and drink yerself blind.